Hashtag Quiz is your all-in-one solution to entertaining guests with exciting pub quiz games, bingo, and card games. Read on to find out how to get started.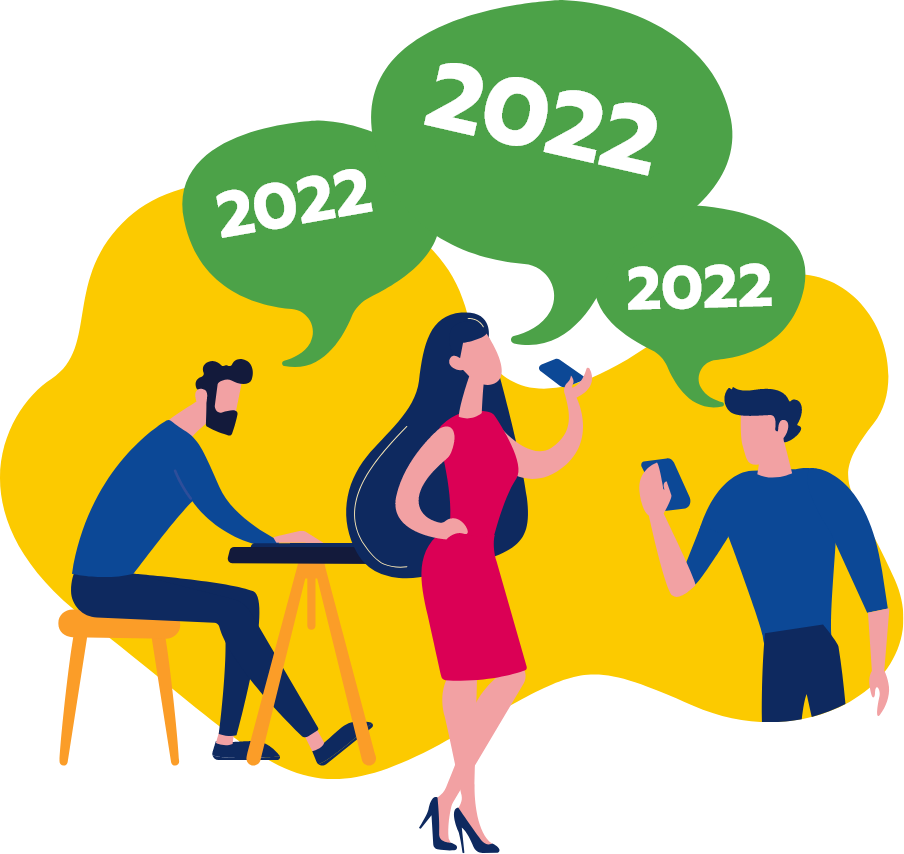 To get started all you need to do is sign up for one of our amazing subscriptions. Once you've done that, you will receive a confirmation email with your login info. From here all you need to do is go to HQ.FM, log in to a 'Host' account using your login details, and you're ready to build and host quizzes and other games.
Our software is community-driven with every user not only gaining access to a wide selection of game modes for quizzes, bingo, and Higher or Lower, but also the Hive. The Hive is an invaluable database where you can build quizzes, look for interesting questions, discover new topics created by other members, and even share your own questions or quizzes.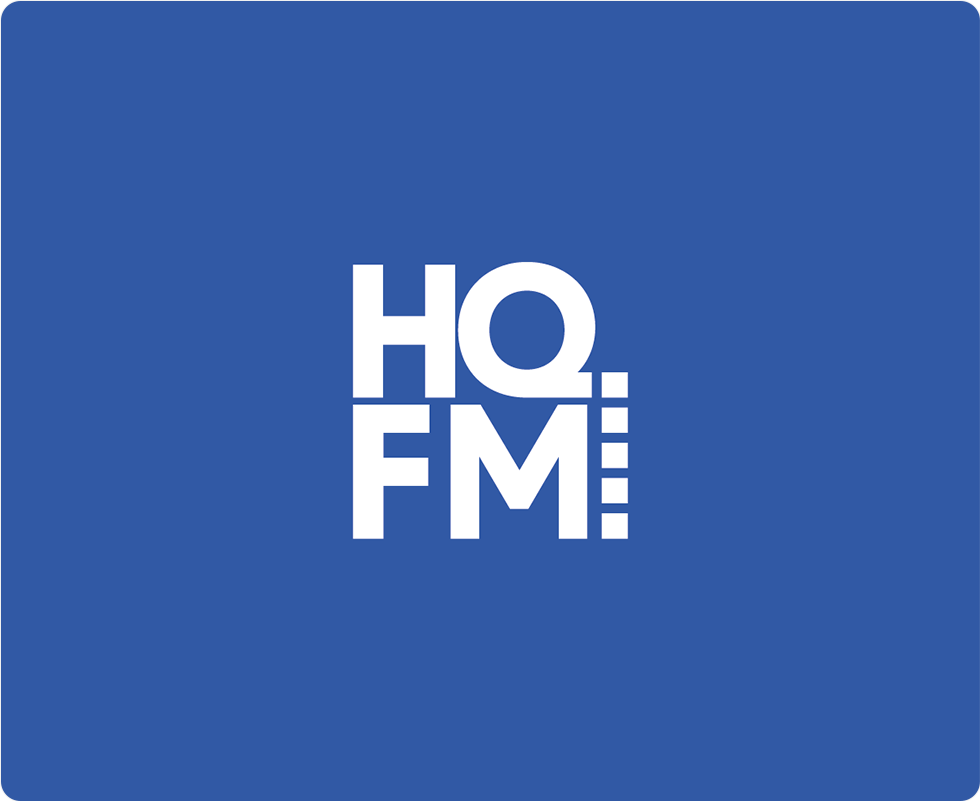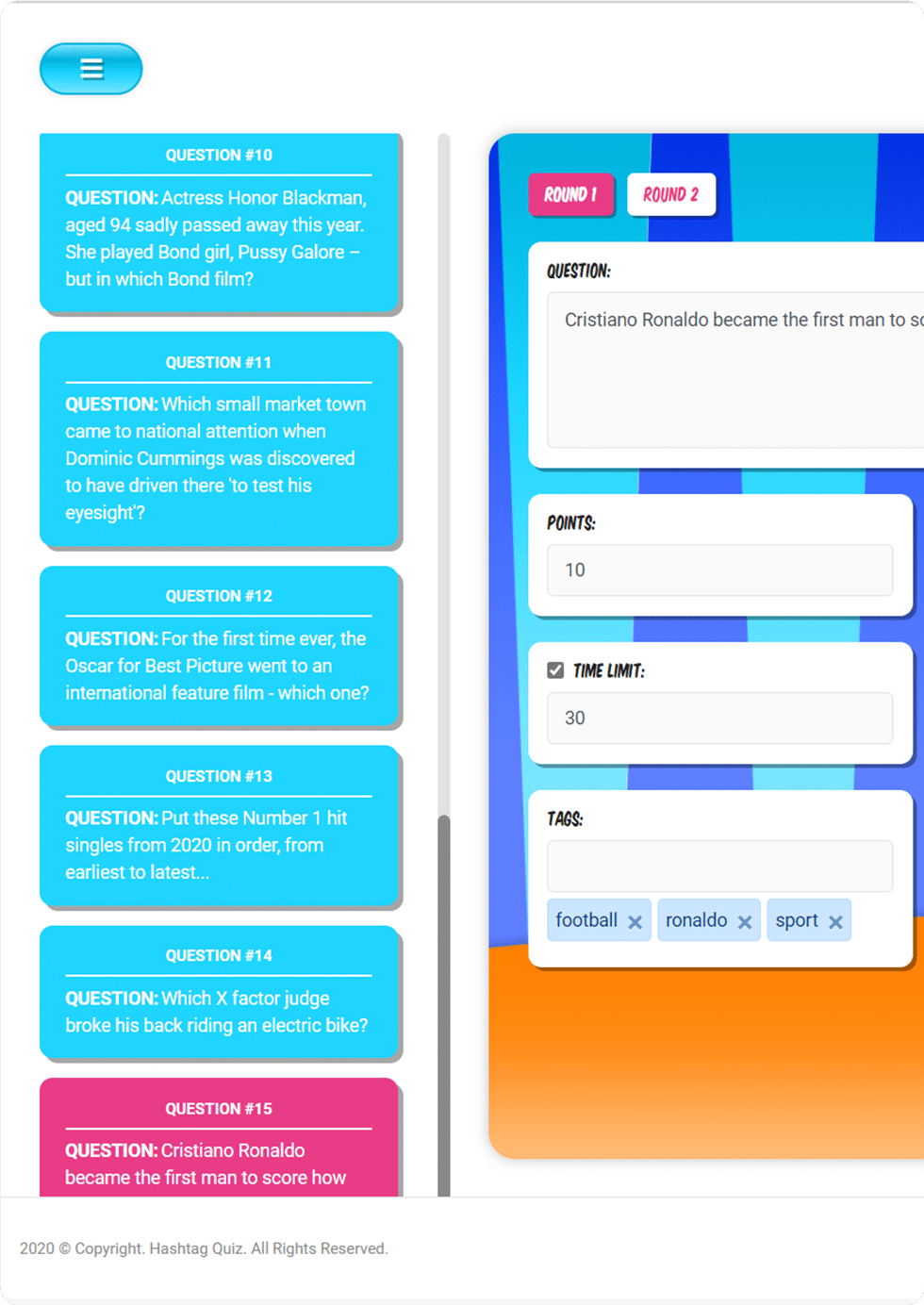 Now you're ready to build a game it's time to look at all the options available to you. Our basic paid subscription gives you access to host games for up to 99 players as well as access to the Hive, and a variety of game formats. This includes pub quizzes (either printed out for pen-and-paper games or digitally transmitted via wifi to your players' smart devices), a selection of bingo games, and even Higher or Lower.
Within each category, you can tailor games and rules to your needs. Want a knock-out style game? Try Killer. Want to raise the stakes and give negative points for wrong answers? Evil is for you. Or keep it casual and familiar with the original multiple-choice format that everyone loves. Why not combine all three and create a game full of twists and turns?
All of our games are easy to manage with clear instructions and controls that allow you to see exactly what your players see before sending it out. We also have a range of tools to make hosting that little bit easier including a narrate question reader, Stripe compatibility for selling tickets, and video delay function for streamers. All of this and more is available with a simple subscription to Hashtag Quiz. If you'd like to give us a try before you buy, then why not grab a free trial. This trial gives you access to all of our quiz-making tools and even allows you to have a practice run with a couple of mates.
Now you've signed up and created your game, it's time to play a game. For pen-and-paper quizzes, it's simply a case of printing out answer sheets and handing them out to your players. For a game run on digital devices all your players need to do is log in to a game on HQ.FM using your unique game code and they're ready for the fun and games.
If you're looking to host a bingo game and want to print bingo cards, you will need to buy them separately. We have an easy solution right here. Simply follow our Bingo Tickets Link and you'll find everything you need for a great game of bingo. 
Hashtag Quiz is versatile and can be used for a variety of events be it a local pub quiz, a stream on Twitch, or a big-screen event at a fundraising event.
Please note; only hosts can access all the features included with a subscription. If you want 
to join a game as a player please log in using a player account using the details supplied to you by the host.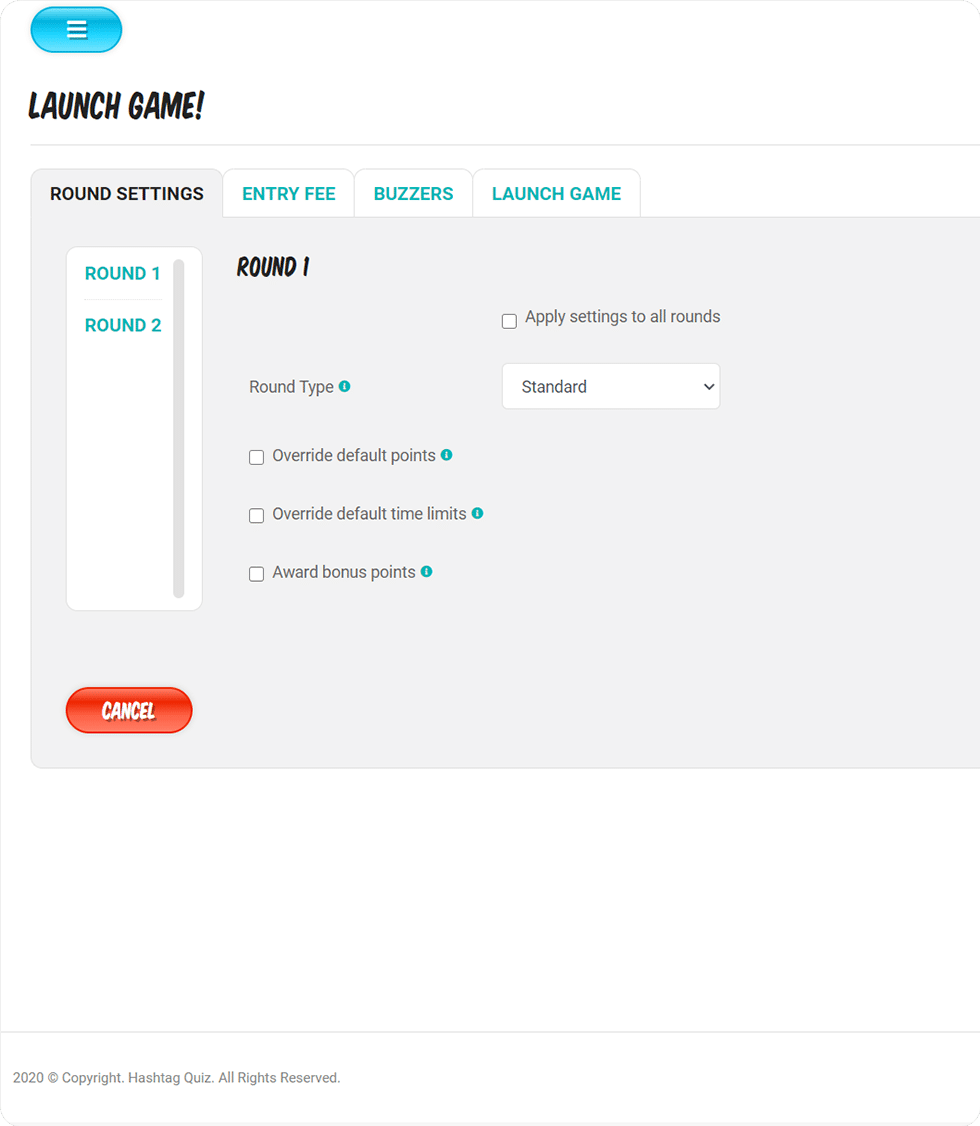 Take a Look at Hashtag Quiz in Action!
Hashtag Quiz gives you all the tools you need to create and host general knowledge quizzes, bingo, and more.

Hospitality
Entertain your guests and drive new customers with exciting new pub quizzes, bingo, and other games guaranteed to bring in additional footfall and revenue.

Fundraising
Our software is ideal for charity events; shine the spotlight on an important cause, host a fun quiz and raise vital funds.

Care Sector
Add fun activities such as quiz games to enrich and entertain the lives of elderly and seniors living in residential care homes.

Entertainers
Hashtag Quiz is the Dirty Dancing megamix to every entertainer's playlist. Every host has HQFM software because it increases your income opportunities with midweek pub quiz revenue.

Education & Training
Make the classroom or remote working fun with informative pop quizzes that engage and entertain students. Perfect for teaching, tests, or subject reviews.

Live Streamers
Engage your online audience, monetise your stream and turn your viewers into participants with Hashtag Quiz's professional Influencer Tool.
Hashtag Quiz Subscriptions
Everybody starts on a free account package. When it's going to be used professionally, please upgrade to the correct subscription level and downgrade as required.


Test Functionality
Question Writer with 10 quizzes to get you started
4 Answer functions: Multiple choice, First Letter, Number, sequence,
Add pictures or Gifs to any question & upload Buzzer sounds
3 Game modes: Quiz, Killer, & Evil
Automatic scoreboards
Social sharing functions
Most Popular
£20
per week after trial
*No obligation, cancel anytime, downgrade or upgrade

Features
99 Real time player connections
Unlimited questions per game with live Narrate function

Quiz Functionality
ACCESS THE HIVE A hub of all the latest quizzes from our network of quiz makers.
EASY ACCESS GAMECODES The quickfire way to get players linked to your quiz & start playing
PRINT & PLAY MODE Download 3 quizzes per week via PDF for a traditional way to play.
UNLOCK DEVICE MODES Project for a Big Screen quiz or host Team Play across multiple devices
PLUS
Unlock MORE GAMES
BINGO - Traditional US & UK, or Music Bingo Caller
Higher or Lower - play your cards right!
Link Stripe - and sell tickets to your event.
More Players please
£30
per week

Features
249 concurrent player connections
Unlimited questions per game with live Narrate function
Print & Play Download 5 games pw

Quiz Functionality
BINGO - Traditional US & UK, or Music Bingo Caller
Higher or Lower - play your cards right!
Link Stripe - and sell tickets to your event.
*No obligation, cancel anytime, downgrade or upgrade
Bespoke Hosting & Game Management
For
larger corporates and organisations
we also offer a more bespoke service. Our team can assist with a wide range of requests such as building branded software or games, providing technical maintenance, and even creating and hosting games for large annual events. Contact our team to discuss your exciting idea or project.
Join in the fun today with Hashtag Quiz and contact us!